Klaesis Baked Goods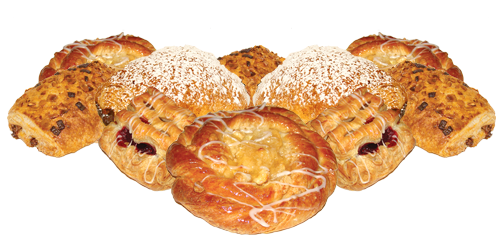 Klaesis offers a variety of baked goods. Choose from our wide selection for your friends and family - and grab one for yourself for the road.
Our danish come in a variety of flavours including apple, lemon, blueberry, raspberry, cheese, cinnamon, and apricot. You will enjoy our French pastries like apple, cherry, strawberry and raspberry. Or try our squares: Pear-Almond or Cherry-Cheese-Apricot. We also have bite-sized butter tarts for a quick snack and Lemon-Meringue tarts for those on a gluten-free diet.
And the list goes on: Piggy Ears, Blueberry Crumble Cake, Apple Crumble Cake, Rum-Hazelnut Cake, Strawberry Cheese Cake, Apple Cheese Cake, Fruit Flan (special order), Apple Frangipane Pie, and, yes, there's more. Come in to see what's in store or call 613-732-2421 to place an order.
Call Klaesis: 613-732-2421
Hours
| | |
| --- | --- |
| Monday | Closed |
| Tuesday-Friday | 8-5 |
| Saturday | 8-2:30 |
| Sunday | Closed |
Location
361 Isabella St.
Pembroke, Ontario
K8A 5T3
Placing orders
Please call 613-732-2421 to place an order. Orders can be left on our answering machine, but please remember that orders left after 5PM will not be listened to until the following morning.
For large orders of breads or buns, please call a few days in advance.
To place an order for wedding cakes, please come in to speak with our baker well in advance of your wedding.