Kläsis, pronounced CLAY-zee-s
What's with the ä? It's an umlaut and it's part of Swiss-German grammar, making the a long. We, Annina, Rahel, and Sandra, were born in Switzerland and moved to Canada in 1990. Kläsi is our maiden name and we are happy to use it for our bakery. The anglicized version of Kläsi is Klaesi.
361 Isabella St. is Pembroke's Bakery
In 2005, we purchased Beck's Bakery and since then have consistently put our skills and creativity to work.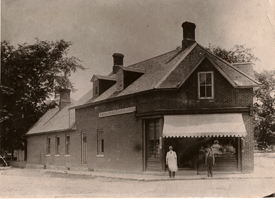 A photo of W. McGaughey's 1883 bakery at 361 Isabella St. Kläsis European Bakery and Café Ltd. follows a long line of bakeries at 361 Isabella Street. The building has been in use as a bakery since at least 1883, when it was W. McGaughey's. It briefly changed to a TV repair shop, and later to The Black Forest Café, before becoming Beck's Bakery.
Help us rebuild the history of 361 Isabella St.
If you have any historic photos of the building, please email them to rahel@klaesis.com.
Call Klaesis: 613-732-2421
Hours
| | |
| --- | --- |
| Monday | Closed |
| Tuesday-Friday | 8-5 |
| Saturday | 8-2:30 |
| Sunday | Closed |
Location
361 Isabella St.
Pembroke, Ontario
K8A 5T3
Placing orders
Please call 613-732-2421 to place an order. Orders can be left on our answering machine, but please remember that orders left after 5PM will not be listened to until the following morning.
For large orders of breads or buns, please call a few days in advance.
To place an order for wedding cakes, please come in to speak with our baker well in advance of your wedding.